Loch Duart Salmon, Beetroot, Leek and Parmesan Croquette
Serves two.
Ingredients
2 Portions of Loch Duart Salmon
Beetroot Puree
2 large Beetroots
Half a fresh Lemon
Salt Baked Beetroots
4 Beetroots or a selection of Mixed 'Heritage Beetroots'
400g Table Salt
6 Sprigs Fresh Thyme
1 Tablespoon of Oilve Oil
Dessert spoon Balsamic Vinegar
Croquette
250g Risotto Rice
Half a Spanish Onion, peeled and finely chopped
Half a clove of garlic, peeled and finely chopped.
1 Leek, quartered, washed, and the bottom two thirds slice very finely.
100g Finely Grated Parmesan
1 dessert spoon of Mascarpone.
1 Litre of Vegetable Stock
2 Eggs whisked
300g of Plain Flour
500g Panko Breadcrumbs
Method
For the Beetroot puree simmer the Beetroots with the skin on, in salted water. Once cooked thoroughly, peel them, blend with a splash of lemon juice to taste and salt. Pass through a sieve to achieve a smooth finished puree.
The Salt Baked beetroots should be washed and dried whole and then spread out on a baking/roasting tray with an even thin layer of the salt below them. Cook for about 2 hours, until cooked and check with a needle/knife to ensure it will go all the way through without resistance. Remove from the tray, discard the salt and wipe off any salt that may be stuck to the Beetroots. Peel them when still warm and cut into quarters/how you wish to present. When ready to serve, roast with a splash of Olive Oil, Thyme and finish with the Balsamic Vinegar before removing from the pan.
For the Croquettes, sweat your Onion and Garlic in a couple of tablespoons of Olive Oil with a pinch of Salt, until soft but without colour. Add your Risotto Rice (a couple of minutes later, add the Leeks) and cook until coated well in the oil and the rice starts to go translucent. Now gradually add your stock (once its cooked fully you want to achieve the consistency of a very thick risotto) cook slowly, stirring continuously. Once nearly cooked stir in your Parmesan and Mascarpone. Once you have achieved the consistency of a very thick risotto, and the rice is cooked (you want the rice to maintain a very slight bite due to the nature of the croquette making), season well and spread out on a tray, chill in the fridge.
Once chilled, roll into small 'golf sized balls' and roll first in seasoned plain flour, then whisked egg and then Panko breadcrumbs. Deep fry until golden at 170 oc.
Pan fry your Salmon, in a very hot non-stick pan, using Olive Oil. Get the Oil hot, season the pan with a generous pinch of Sea Salt, then put your Loch Duart Salmon skin side down in the pan. Leave for 2-3 minutes to achieve a perfectly crisp skin, gently turn over and cook for another minute or so, depending on the size of your Salmon, add a squeeze of lemon juice to the pan and serve with your warmed Puree, Salt Baked Beetroots, Croquette and seasonal vegetables of your choice.
Recipe Copyright Craig Stanley 2017.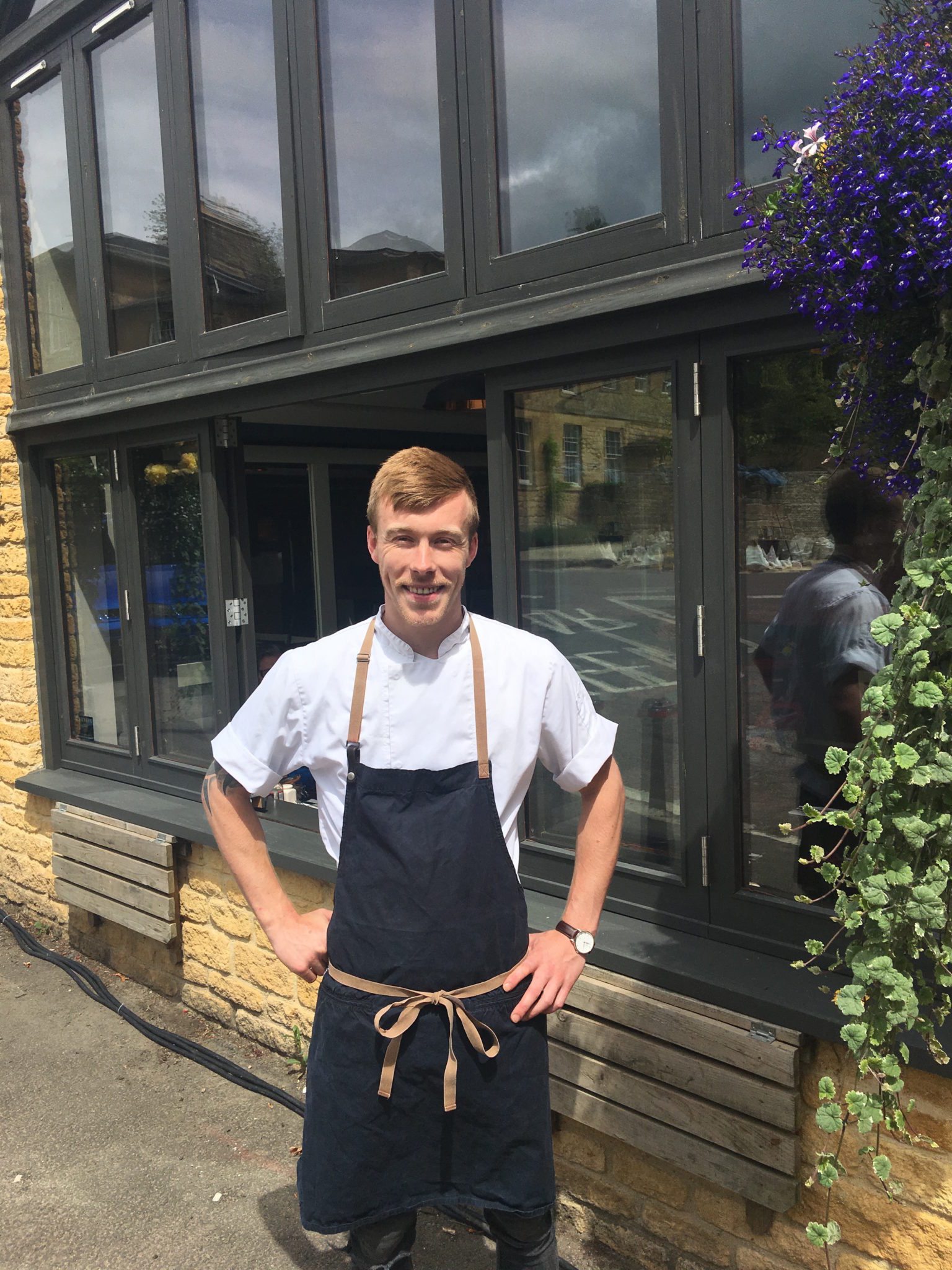 About the Chef
Craig Stanley, Chef Patron/Director
Blockley Café – Gloucestershire, Cotswolds.
My first job was as a kitchen porter in a local pub, when at the time, I was unsure what I wanted to pursue as a full-time career. I quickly realised the kitchen was the place I wanted to be in and loved the 'buzz of it'. I saw how the chefs had real creativity and could put together dishes using great ingredients which they not only enjoyed doing, but the customers loved.
As they say the rest is history and I am lucky to of since worked in some of England's finest country hotels including the exclusive Soho Farmhouse in Oxfordshire.
However, the philosophy that made me want to stay in the kitchen, has not left me and key to everything I do is ensuring my customers and guests enjoy my dishes, and I always use the best ingredients possible, creating dishes where they can speak for themselves. Food doesn't need to be over complicated, it's about great ingredients, cooked well, letting the flavours speak and ensuring your customers know what they are eating and enjoy the experience of the dish and the time they have with their fellow guests. That's what I think now is becoming key to any food business working, it's why I love to use Loch Duart Salmon and is what I base the running of my Café on and future expanding business.
If you are ever in the Cotswolds, I hope we can welcome you, we aim to offer something for everyone!
Blockley Café is in the beautiful Village of Blockley, Gloucestershire. North Cotswolds.
Open seven days a week, 9am – 4pm. Serving Dinner every Friday and Saturday.
If you'd like your Loch Duart Salmon recipe to be featured as a Loch Duart chef highlight article, please send your Loch Duart Salmon recipe along with your chef bio and photo to [email protected]