After producing the winning dish – tempura of Loch Duart salmon belly – at the 2018 Passion to Inspire competition, the student chefs were invited to visit Loch Duart Salmon in the North East of Scotland. Passion to Inspire was set up in 2009 by Murray Chapman to give young chefs opportunities to succeed and to help bridge the gap between students and the hospitality industry. The students are passionate about their cooking and were keen to understand how we farm, and ensure the quality and great taste of our salmon.
At the beginning of April, the students and tutors made the 624-mile journey to visit our farms in Scourie. After landing in Inverness, they were greeted by our Food Ambassador, Patrick Evans, who drove them north to their accommodation at Loch Assynt. The majority of the students had never ventured to the North of Scotland and so they were taken aback by the rugged scenery, wildlife and spectacular views.
"I enjoyed the trip to Scotland so much and would recommend everyone to do it if they ever get the opportunity." Charlotte
On the first day, the students visited the hatchery where they learned about how the salmon start their life cycle as alevin and fry.
"I will always remember and be grateful for this opportunity of a lifetime" Tierney
After visiting the hatchery, the students were scheduled to visit one of the farms. Unfortunately, the weather took a turn for the worst, meaning that it was not possible to get to one of our sea sites by boat. Instead, the students learned how our feeding system works and how staff monitor and regulate the salmon's food intake from land when the weather is too rough to get out to the farm.
"It was really surprising seeing all of the different locations where the salmon farming took place." Alfie
Whilst on the trip, the students were given the opportunity to show their own creativity by taking part in a cooking competition where they were tasked with creating their own salmon dish. After filleting their salmon and completing their dishes, the winning dish was declared – a Loch Duart salmon fillet served with fragrant rice and satay sauce.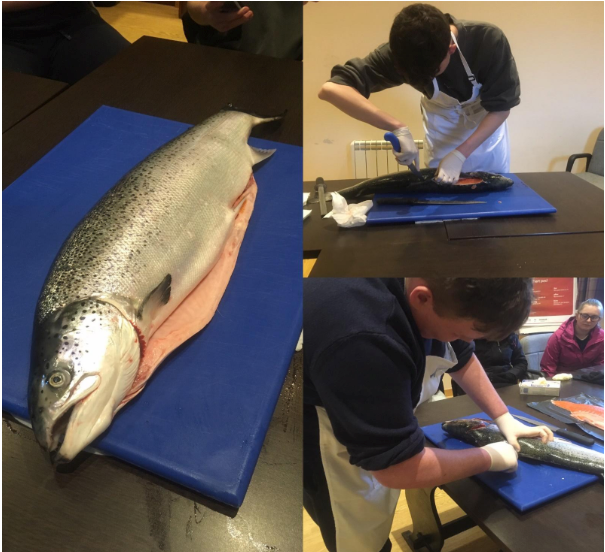 "All the staff were so informative and you could tell that they have so much passion behind the product they are producing." Dan
"Scotland was an awesome trip I only wish that we could have stayed longer." Alfred
The students and tutors all thoroughly enjoyed their trip and we loved showing them how we care for our salmon.  We wish them all well in their future careers!
"It was a trip of a lifetime, and we will never forget it. We could not stop saying thank you, as the trip was incredible!  Loch Duart Salmon is a cut above, you can really taste the difference and I've been converted, I am now an ambassador for Loch Duart!"  Stuart