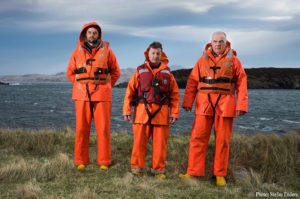 On 12th March, Stefan Enders, the renowned German photographer, visited Loch Duart.  Stefan is also the Professor of Photography in the University of Mainz in Germany.  He is the photo-artist of a project focusing on people living and working on the outer borders of Europe.  Stefan photographed and interviewed about a dozen members of Loch Duart's staff.
The results of this project will be published in 19 countries next year.  It's a fascinating project and we are honoured to be involved.
Two comments from Stefan and his friend and navigator Mathias:
Loch Duart has a rich abundance of highly talented young staff
They were surprised and gratified to see so many women with fulfilling careers in salmon farming 'at the edge of Europe'. (See below for more details)
In these images, our Drumbeg staff, Robert, Peter and Lloyd are looking at Stefan as he conjures a portrait of them on a very windy March morning and Stefan's associate, Mathias, has captured Stefan 'at work'.
---
Europe at the edge
This is a research project of the University of Mainz in Germany. It deals with Europe and the self-understanding of the people in Europe – 25 years after the division of Europe became history you can travel through the European Union without controls.
---
Stefan Enders is a Professor of Photography at the University of Mainz. He will travel « once around Europe » as a photo-artist for this project. His work will focus on the outer border and border areas of Europe. The people and their living conditions are the photographic focus. Far away from Brussels and Strasbourg, the stories of these people draw attention to many of the crucial questions facing Europe.
Andy Bing