Loch Duart, the independent salmon farming business based in the Hebrides and Sutherland, has recruited Patrick Evans as their Scottish Food Ambassador.  Patrick's role bridges the gap between sales and the culinary community, with his extensive experience as a chef supporting the marketing of Loch Duart's extraordinary tasting salmon.  The Food Ambassador role is a first in the Scottish salmon farming industry, and possibly the Scottish seafood sector.
Originally from Devon, Patrick is now based in Edinburgh and has worked as a chef across the UK and Europe.  By bringing his chef's experience to the company, Patrick will add to Loch Duart's already strong connection with chefs and cooks across Scotland, the UK and worldwide.
Alban Denton, Managing Director of Loch Duart, said:
"Rather than recruit a Sales Manager, Loch Duart needs a chef who can discuss the cooking qualities of our salmon with other chefs on their own terms. Our staff rear fabulous tasting salmon and it's our job to share our understanding of the best cooking qualities and flavours of Loch Duart salmon."
Patrick's induction involves all aspects of farming including salmon husbandry, taking sea bed samples and joining the fish biologist teams in the fish health checks and flesh quality checks. He will use his chef's experience to refine its blind tasting procedures as the business regularly "tastes" its salmon and compares it to other salmon on the market.  Patrick also has an internal education role within Loch Duart with tastings and cooking demonstrations. This will explain the beneficial impacts of Loch Duart's unique farming methodology on the taste and eating qualities of its salmon.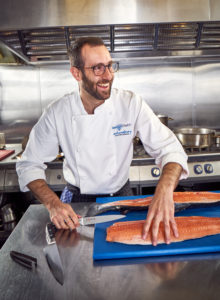 Loch Duart's Scottish Food Ambassador, Patrick Evans, said:
« To be chosen as Loch Duart's first Scottish Food Ambassador is a huge honour. I'm looking forward to sharing with Loch Duart staff, chefs, restaurants, hotels and culinary communities what makes Loch Duart salmon such an extraordinary tasting, premium product. You can expect everything from new blind tasting sessions to short videos where I share some of the best ways to prepare and enjoy the salmon. It's a dream job and I'm looking forward to working with the fantastic team at Loch Duart. »
For more information on Loch Duart Salmon, visit www.lochduart.com.