Every time I race, I gain further experience and wisdom, helping me become a better rider.  There is, however, the one constant in the training and racing process, and that's patience.
I'm a massive believer in having patience. Even the young, elite riders have bags of experience and technical ability. They consistently pull out stellar performances and in the majority of cases have been riding and racing since they were able to take their stabilisers off. Just like us seasoned pros, they have put in years of time and effort to get where they are today.  
Despite my age, I constantly have to remind myself that I have 'developmental youth' on my side, and the room for growth is boundless. The athletes I look up to in this sport are those that consistently place at World Cups. If you look at their careers closely, you'll see that most were late to join the sport. I, therefore, remind myself that chronological age and developmental age are two very different things, and I take a lot of motivation from this.
I believe that building patience is key to growth. I still make the mistake of hurrying and not taking the time to slow down. I fear that one day everything will just go "POP".
I wrote recently about an experience in Turkey which resulted in illness and a DNF (Did Not Finish) in the first round of the British series. I took a little time off the bike, but on reflection, I panicked about missing training and got back into it too soon. Even though I didn't feel right on the bike, I kept thinking my legs would eventually come round.
I still managed my first British series win, but physically I found it hard to dig deep. I was burying my head in the sand about the level of fatigue I was carrying because I hadn't dared to rest when I'd been ill.
For some reason, despite struggling to shake off fatigue and recover well, I thought it would be a good idea to do a double weekend of racing in Norway, returning home in between each race to fit in some work (which also required a flight to the Outer Hebrides). I love Norway. It's a beautiful country, and I find it so peaceful there. I love the people, the food and the landscape.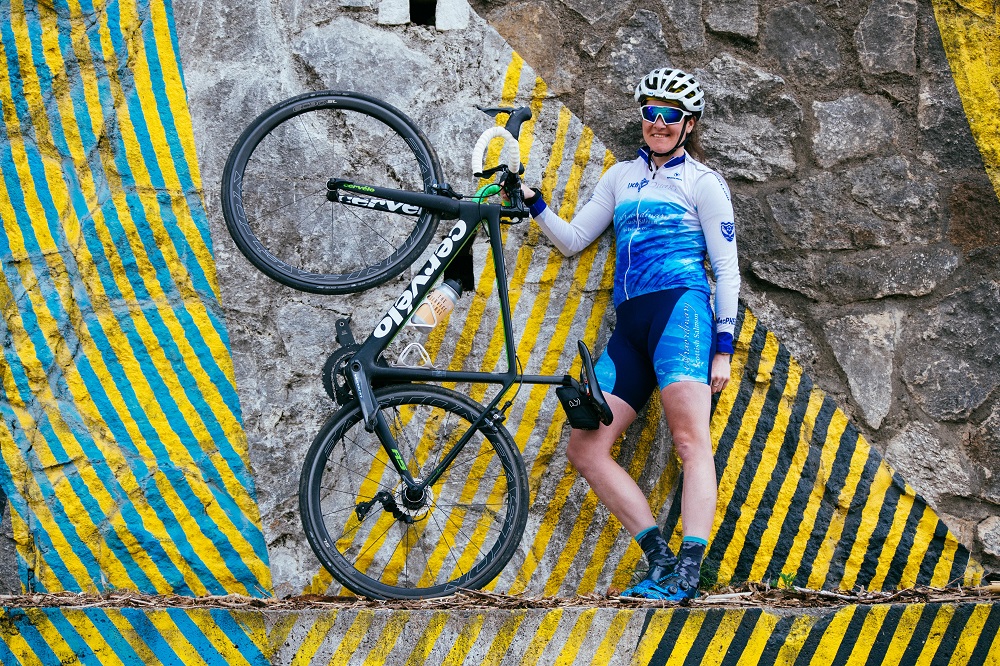 The first weekend went quite well with a second place finish in the time trial (a solo hard effort around 1 lap of the course). Although I was disappointed with my sixth place finish in the XC, I was happy to have the experience under my belt, reminding myself to always pack mud tyres! Torrential rain made for a mud-fest race, but you can't put a price on the experience. Despite my second place finish, I still didn't feel quite right or fresh.
I was keen to come back for the following weekend because it was a Stage race I had podiumed last year and I was starting to feel antsy about the upcoming World Cups. I kept thinking that I needed to get UCI (Union Cycliste Internationale) points to get a good starting position on the grid. The only way to do this was to race. Well, if I was feeling tired before, my body couldn't have given me any better signals than it did at this particular race.
En route home from the last weekend in Norway, I'd been caught up in pilot strikes and had to spend a night in Brussels. This resulted in an additional two flights and the lack of rest between weekends and crazy travel schedule showed…I blew my doors on the first Stage and limped around.
Stage 2 was a little better, and then on Stage 3, my body was in 'plod' mode. Not ideal two weeks out from a World Cup! I suffered through it and came away feeling surprisingly functional; mostly because I felt like I'd won the head game by not giving up. I made a couple of panicked calls after Stage 2 wondering if I should pull out and call it a day, but I'm glad I didn't as it's challenging to recover mentally from pulling out of a race.
The following weekend, I headed down to Staffordshire for Round 3 of the British series. This was the last race before the first World Cup of the year in Albstadt. I was able to engage my 'acquired wisdom' and reflect on the fact I was going totally gung ho, trying to do far too much and, potentially risking the rest of the season and burning out completely.
I decided that if my positive racing sensations felt like they were returning during this race, I'd go and race Albstadt, but if I still struggled, I'd sit it out.
The gun went, and I jumped onto the wheels of GB's two Olympic hopefuls Annie Last and Evie Richards. I was surprised to be holding on for longer than I expected which felt pretty good! However, the crucial moment came as I began lap 3 and entered into a fast gravel descent. I went to chuck a gel wrapper at spectators but in doing so, twisted my bars and landed on my left side like a sack of potatoes, skidding along the painful gravel!
Though in shock and pain, I somehow got back on the bike and finished 3rd. What I took away from this race was that, yes, my body was coming round physically but mentally I was still fatigued to have made such a silly mistake. It was time to heed the signals.
So, this is the point that I found some courage and did something every athlete dreads. I took a week off the bike, sat out Albstadt World Cup and now find myself in the Czech Republic, gearing up to race Nove Mesto World Cup this coming weekend and guess what. My legs feel great!
More importantly, my head feels brilliant! I didn't realise how tired I was until I wasn't, and I didn't understand how much I needed a proper rest until I rested. It felt like a weight off. I don't even feel panicked about the fact my training has been far from ideal leading into this one.
I feel calm, and I should have practised that mantra back in March! I've given my body a chance to reset, and I'm reinvigorated, motivated and cannot wait to get stuck into specific training that my body will be able to absorb. Even though I know I have to be patient with the process. You get so sucked into wanting to continue on the upward trajectory that you fail to step back and listen to the signals. Hurry slowly, and you will get there eventually, right?!